Pioneer Spine and Sports Physicians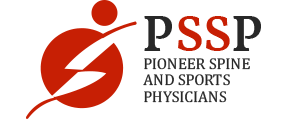 Who We Are
Pioneer Spine and Sports Physicians offers comprehensive care based upon the combined expertise of multiple specialists. From initial diagnosis to completion of treatment, we provide in-house access to physician assessment, physical therapy, injection therapy, pain management, and surgery of the spine when needed – everything a patient needs in order to return to a healthy lifestyle.
Having all of our services in-house allows us to work side-by-side, which is of great benefit to our patients. Physicians, PAs, NPs, physical therapists, athletic trainers, your referring physician, and you all work closely together to ensure communication and treatment is consistent and thorough.
Our goal is to provide the highest quality and most comprehensive care to every patient we see and to return them to their prior activity level as quickly as possible.
Mission Statement
The mission of Pioneer Spine and Sports Physicians is to provide comprehensive care for musculoskeletal, sports, and spinal conditions. We strive to create an environment that allows our patients to obtain efficient and effective non-surgical treatment for these conditions, and one that allows our employees to thrive.
We maintain the highest medical standards and make proven state-of-the-art intervention available to our patients within the realm of our specialty. In each of our facilities, a unique multidisciplinary approach to medical conditions gives our patients their best opportunity to benefit from non-surgical care.
We endeavor to provide an optimal environment for this care, and a positive, dignified experience for all of our patients and employees.
At a Glance
Largest private Physiatry Practice in the U.S.
Provides comprehensive, non-operative care for spinal conditions and sports injuries under one roof
Offices throughout Western Massachusetts for over 30 years
PSSP has a panel of over 140,000 patients
PSSP has over 20 clinicians and more than 20 physical therapists with several hundred years' combined experience
On-site physical therapy at most office locations
Several PSSP physicians are recognized as members of Best Doctors
Clinical Programs: Sports Medicine, Minimally Invasive Spinal Intervention, Acute Inpatient Rehabilitation, Acute and Chronic Pain Management, Spasticity and Electrodiagnostics
PSSP has been an integral partner with Baycare PHO in establishing the guidelines for efficient spine care in conservative spinal medicine treatment
Employs over 125 people locally
Team Physicians for local colleges and high schools
Medical Directors: Weldon (Mercy Medical Center) and Bronson (Baystate Noble Hospital), Acute Inpatient Rehabilitation Units
Affiliation with Return to Work Center – Industrial Rehabilitation/Work Hardening Care
On-site rehabilitation at Mass Mutual Insurance Co. – Springfield, MA & Enfield, CT – and Lenox Manufacturing
Offers Specialty Pediatric Rehabilitation Services in Northampton office.
Affiliated with most local hospitals and the Surgery Center of New England ASC
Integral providers of non-surgical care at Spine Institute of New England