Electrodiagnostic Medicine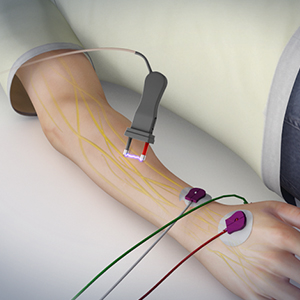 An electrodiagnostic study is a test that our physicians perform to help diagnose nerve and muscle disorders. It consists of two parts: NCS (nerve conduction study) and EMG (electromyography).
During the NCS portion of the exam, the physician uses a small amount of electricity to determine how well your nerves are functioning. You will feel brief tingles or small shocks each time the nerve is stimulated.
During the EMG portion of the exam, the physician will place a thin needle electrode into several muscles and examine their electrical properties on a screen. You will feel mild discomfort with the electrode.
Your physician will use the information obtained to treat your condition as effectively as possible. Some of the more common disorders diagnosed with an electrodiagnostic study include carpal tunnel syndrome, radiculopathy (pinched nerves in the neck and back), peripheral neuropathy, ulnar neuropathy, and myopathy (muscle disease).
To prepare for the exam, the patient is asked to bathe or shower on the day of the study. A soap with little or no oil (such as Ivory soap) should be used. The patient should not apply any lotions to the skin on the day of the exam.
Please advise your physician if you are on any blood thinners or have had any surgery requiring the removal of lymph nodes (such as mastectomy).
If you have any questions prior to the exam, please feel free to call our office to discuss them with our staff. We have reserved a significant amount of time for your study. Each exam typically lasts 30-60 minutes. Please contact us well in advance if you cannot make that appointment so that we may schedule another patient in that time slot.
---
Other Spine Procedures Procedures